New!
Release on April 27, 2015.
CD of Germanys and Austrias yodelling of Kitagawa Sakura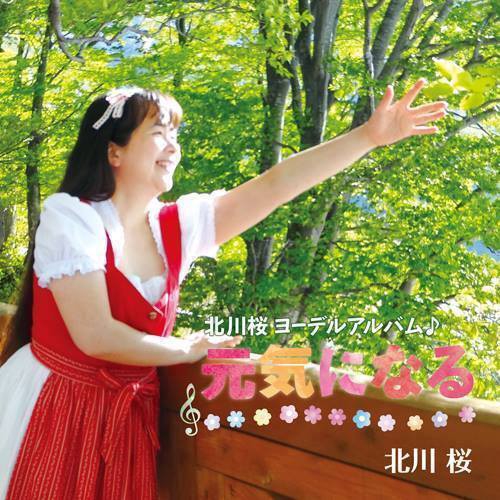 Horen but once inside you!
Release on April 17, 2009.
CD of Swiss yodelling of Kitagawa Sakura

Horen but once inside you!
---
SAKURA KITAGAWA JODELERIN / Profile
JODELERIN / Sakura Kitagawa

Graduated from Wako Gakuen junior high school/high school. Graduated from Kunitachi College of Music, vocal course. Enrolled in Nikikai opera member.
Went to abroad to study the folk music with a central focus on yodel of Germany, Switzerland, and Austria while appearing on large numbers of opera, operetta, and musicals.

Since 1992, studied under Marie Therese Von Gun Teng for Swiss yodel, and Inge Foffa, Maria Helbig, and Otto Piasac for German yodel.
Formed Musical band of Alps centering on yodel in 1994.
"Edelweiss Musikanten"
Took an active part in yodel concert in auditorium, an event, etc., and appear also on a large number of children's programs, such as "Ponkickies", for playing yodel.
It is frequently taken up by television program "Look Look Konnichiwa", the 1st broadcast of Japan, NHK oversea broadcast (German version), and German national broadcaster, ZDF for playing yodel.

For Germany yodel (Germany / Bayern Beer thing), while acting as regular singer in Tokyo HOFBRAUHAUS Shinjuku for 12 years, started a band of beer hall "FESUTO", and acted as a bandmaster.
Took charge of playing on Monday, Wednesday and Friday for four years regularly with Edelweiss musikanten in Yebisu Garden Place "Festbr?u (wide beer hall like a gymnasium with 500 seats)".
Also appeared on a large number of stages of beer festivals, such as company-sponsored Oktoberfeste.

For Swiss yodel, awarded the highest degree of class 1 (H?chstklasse) in Swiss Confederation sponsorship yodel fest in 2008.

She is a first professional female alpine yodel leading expert in Japan who deals with all of the Switzerland yodel, German yodel, Austria yodel and alpine yodel.
A lecturer of open school of NHK Gakuen Kunitachi school, "Let's sing alpine yodel"

- a hall performance (large number in all over the country) of the YAMAHA music plan "Alpine songs"
- Family theater hall performance work of Alpine Musical band, "Heidi version" and "William Tell version"and others.

The activities except for yodel concert are as follows.

Appeared on Toho musical "Sound of Music" and "My Fair Lady".
Played an active part as a reporter of TV program of NHK, "TV Jiyuuseki."Others


See the movie of You Tube (There are many movies)
Click here.